We all want our children to be healthy and happy. But in a world where life has been made much easier by cars, computers and convenience food, it's hardly surprising that a growing number of today's children risk becoming overweight.
In this two part article published by the Chartered Society of Physiotherapy(CSP) we share with you changes you can make to ensure your kids are fit and healthy.
Physiotherapists and dietitians know that many of these children that are overweight are likely to remain overweight as adults unless they exercise and eat well. Being overweight can put kids at risk of some serious medical conditions like heart disease, type 2 diabetes and cancer and can put unnecessary stress on their growing bones.
As a parent, carer or teacher, you can help your children or pupils enjoy exerciseand healthy food. This leaflet, produced by the Chartered Society of Physiotherapy and the British Dietetic Association, is packed with top tips to help you get your kids fit for the future
Children should aim to be physically active at a moderate intensity for one hour every day. Their heart rate should
increase, but conversation should still be possible. It's ok to break activity into easier 15-minute slots throughout the day.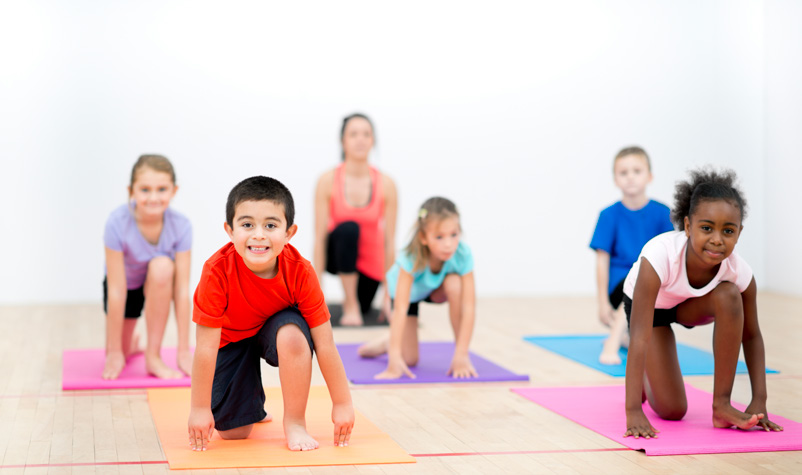 School days
There are plenty of ways kids can get active during the school day:
Walking to and from school is great exercise. If you have concerns about safety, walk with your children and bring younger siblings along on reins as soon as they're walking competently. If time is a problem for working parents, is there a local walk-toschool scheme children can join?
> Make the walk more fun by telling stories and playing games, like I-spy or spotting different types of car, as you go
> Give your child a sense of achievement by giving them a pedometer, which measures the number of steps they take
> If you're a teacher or teaching assistant on duty during break time, tell children about the games you used to play as a child. Show them how to play hopscotch, skipping and tag, for example.
Up and about
Get kids active after school, at weekends and during holidays. Here are a few tips to help you get the kids away from their DVDs and video games.
You can do many of them together with your child.
> Get a map of your area and plan a weekly walk
> Teach your child to ride a bike so you can cycle together
> Go for a swim together
> Don't just use the park for a picnic, do something active too. Throw a frisbee, fly a kite, or kick a ball around
> Enter your family in an event like a fun-run or bike ride. Working together is rewarding and great motivation
> If your child shows an interest in televised sport, see if you can sign them up to a local club where they can try it
> Walk to the shops, or park further away if you have to drive. Take the stairs, rather than the lift or escalator, and ask for a little help with the shopping bags! When the weather puts a dampener on things, get active indoors.
> Interactive sport video games are a fun way of getting active. If your child has a traditional console, set them a physical challenge each time they progress from one level to another – a set of star jumps, for example
> Play hide and seek or show your child how to use a hula hoop.
We would love to hear from you, would you like an exercise class specifically for your children to work on strength, balance and control? Give us a call on 01189 462299 or email our Physiotherapy Manager kirsty@completephysiotherapy.co.uk to tell us how we can help your children.